Sue Ballard
Sue Ballard currently serves as Vice President for Alumni Engagement at Syracuse University. Prior to her work for the university, she served as the Director of Stewardship and Special Events for Cincinnati Children's Hospital Medical Center, where she led a team of 10 donor relations and events officers.

Before that, Sue served as the first-ever major gifts officer for the College of Mount St. Joseph. She spent the majority of her early career at Bowling Green State University (BGSU), where she was involved in a variety of alumni and volunteer engagement activities. In addition, Sue brings with her substantial board management experience through her work with BGSU's alumni board and foundation board, as well as Cincinnati Children's foundation board.
Sue, a native of Rochester, NY, received a B.A. in political science from Hartwick College and earned her M.A. in college student personnel at Bowling Green State University. Her family is from all around the region, with ties to Cape Vincent and Clayton. After a life and career in the Midwest, her fond childhood memories of summers at the River called her home. She transitioned her life with her husband to Northern NY in winter 2016, and reminds herself every drive down to the River how fortunate she feels to be back home.
John Farrell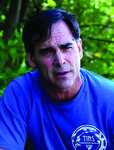 Dr. John Farrell is a professor in the Department of Environmental & Forest Biology at SUNY College of Environmental Science & Forestry (SUNY-ESF). He received his Ph.D. in 1998 and M.S. in 1991 from SUNY-ESF and joined the faculty in 2000. His interests revolve around aquatic ecology and management of aquatic resources.
John is also the Director of the College's Thousand Islands Biological Station (TIBS) on Governor's Island, Clayton. He focuses his research on fish ecology and coastal wetland ecology, and their application toward addressing environmental problems facing our freshwater systems.
TIBS is a major aquatic research facility in North America and John invests time in development activities to support building infrastructure and other research initiatives at TIBS. John has received significant funding from agencies including the National Fish & Wildlife Foundation, NYS Department of Environmental Conservation, the Great Lakes Research Consortium and Cornell University.

John has worked with TILT to deliver the highly popular Ichthyologist for a Day KidsTrek since 2012 and always participates in TLT's annual Zenda Community Picnic. His work serves to illuminate environmental issues facing the St. Lawrence, and how to protect it. His knowledge and experience will help place TILT at the forefront of conservation in the 1000 Islands region.